Located just off the Northeast corner of the square in beautiful downtown Woodstock (see the MAP link for directions). A flashback to the 1960s. Lava lamps, beads, candles, incense and the friendliest staff and patrons in the world. Travel back to the time when music and magic mattered.
---
LIQUID BLUES REPUTATION GROWS BEYOND WOODSTOCK
Northwest Herald Sunday November 2 2014 - CLICK HERE!

ONE OF THE 12 BEST ILLINOIS BARS NOT IN CHICAGO
Thrilist.com - 2014

-

CLICK HERE!

ONE OF THE BEST BARS TO INSPIRE COVERSATION
IN MCHENRY COUNTY
Shaw Publications - 2014

VOTED WOODSTOCK'S BEST KEPT SECRET &
BEST NIGHTLIFE AFTER THE OPERA HOUSE
Woodstock Independent

WOODSTOCK'S "HIDDEN GEM" - Northwest Herald
Check out the video - CLICK HERE!

---
http://nwherald.com/2014/10/23/liquid-blues-reputation-grows-beyond-woodstock/a82kxoq/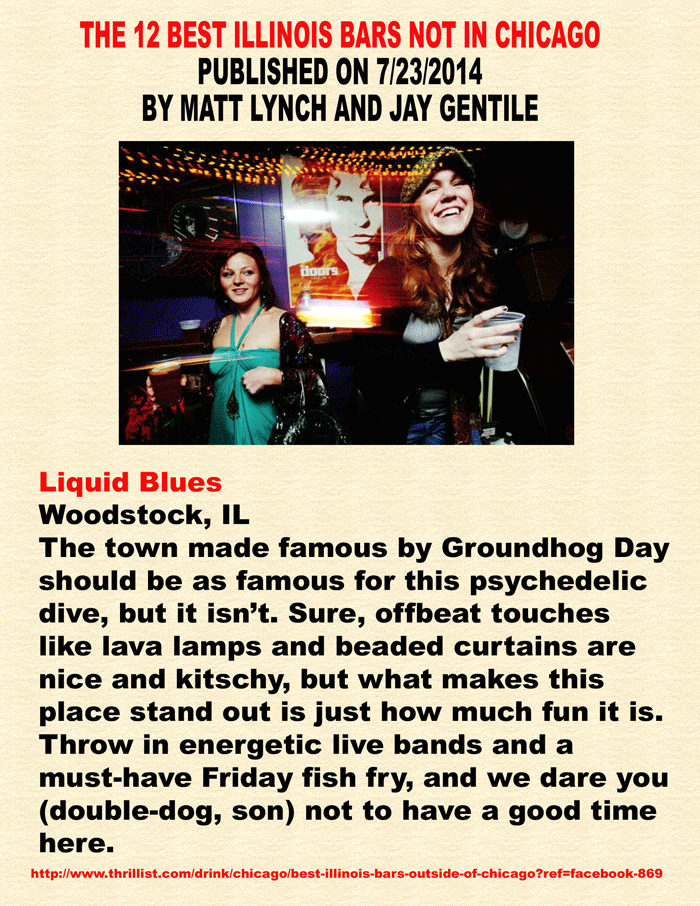 http://www.thrillist.com/drink/chicago/best-illinois-bars-outside-of-chicago?ref=facebook-869
LIQUID BLUES LTD.